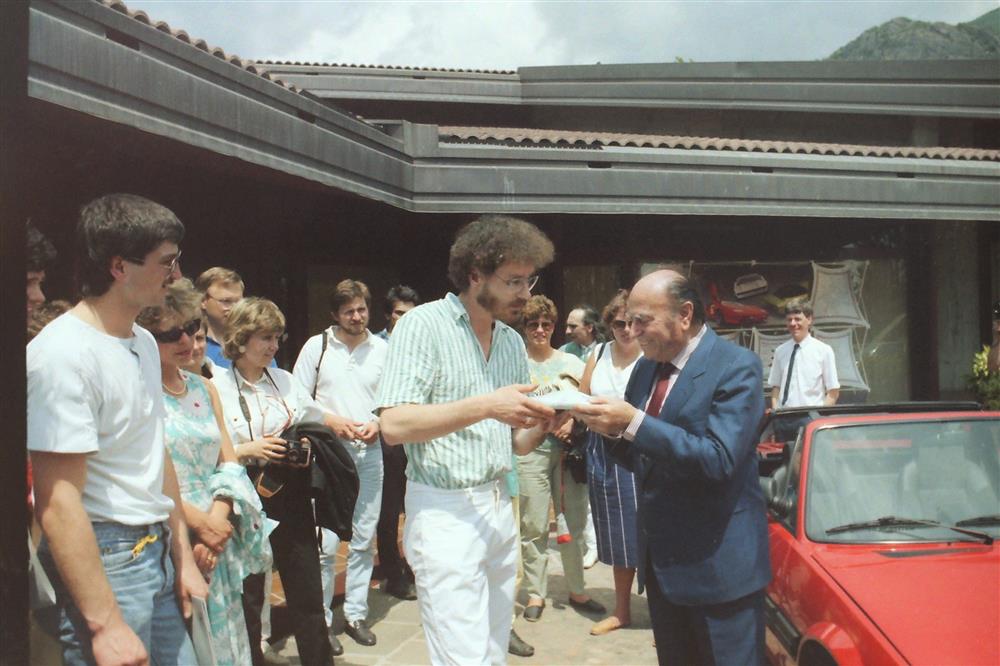 Meeting 2012 with Gianbeppe Panicco at Stupinigi Torino
"Now all X 1/9 owners have a jewel and a precious car with a great styling and design that will be special for ever"
Gianbeppe Panicco 2012 Torino

When I bought my 1987  Bertone X 1/9, I could not suspect that this would mean a love for life. After my start of the Fiat-Bertone X 1/9 Club Netherlands (1986), there followed many years of international contacts with X 1/9 owners and clubs abroad.

Then there were counless and unforgettable trips to Italy and several meetings with Gianbeppe Panicco (staff-assistent and right hand of Nuccio Bertone) and Elisabetta Farmeschi (chief public relations Bertone) at Carrozzeria Bertone in Grugliasco/Torino, culminating in a personal contact and meeting with Nuccio Bertone and later Lilly Bertone.

Al these activities increased my interest in the X 1/9 passion and the unique Bertone design of this car. This also led to the establishment of contacts elsewhere in Italy and the search for X 1/9 parts in order to support enthusiasts in the Netherlands and abroad to maintain their X 1/9 hobby.
During my many trips to Italy, the network grew and friendships arose. More and more I got the feeling that Italy, with its beautiful and great automobile history, rich culture and the special "dolce vita" feeling, became my second home. Also at Carrozzeria Bertone the door was open for me and it was always a "benvenuto".

X 1/9 Parts Holland is actually a runaway hobby and for almost 30 years a "passione". Important goal was to help X 1/9 friends with advice and assistence and to exchange and share experiences.

Finally in 1987 the production of the Bertone X 1/9 ended and from that moment it became harder and more difficult to find parts. Fortunately all Italian connections and contacts with Bertone gave me the opportunity to find spare parts and accessories for my personal collection and use.